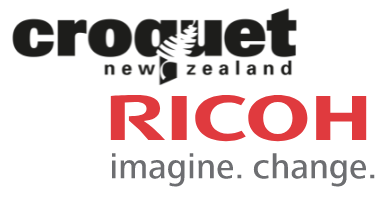 Croquet New Zealand is excited to announce that it has partnered with Ricoh New Zealand to help deliver the Croquet Inclusion Project.
Ricoh is a major international brand which has partnered with many iconic sporting organisations including; AC Milan (Soccer), Toronto Maple Leafs (Ice Hockey), Philadelphia Eagles (American Football), as well as local New Zealand teams like the Hurricanes (Rugby) and Waikato-Bay of Plenty Magic (Netball) in recent years.
The Croquet Inclusion Project is being rolled out nationwide, with the first sessions having been run in Wellington and Palmerston North during February 2022, and provides the opportunity for disabled New Zealanders to try, and enjoy croquet. In addition to providing the opportunity for more New Zealanders to try croquet, this project will also help develop resources to support croquet clubs and ensure that all New Zealanders feel welcomed at croquet clubs throughout New Zealand.
"Croquet New Zealand is really excited about this project and what it can mean not only for croquet, but also the disabled community in New Zealand. We are committed to illustrating the fully inclusive nature of croquet, and it is exciting to have an organisation like Ricoh recognise the benefits of this initiative and provide support.", says Croquet New Zealand Chief Executive, Jake Inwood.
To learn more about the Croquet Inclusion Project, you can email Croquet New Zealand's Inclusion Officer, Oliver Field, inclusion@croquet.org.nz.