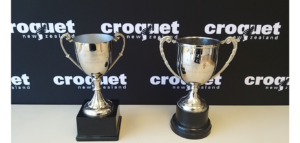 The Terminator Mallets
U21 GC Championship
Held by Croquet South Canterbury
Friday 7th to Tuesday 11th April 2023 at 8:30 am
Tier 1 Event
Manager: Audrey Leath
Mobile: 027 292 4443 Email: abjleath@gmail.com
Referee: TBA
Headquarters: Waireka Croquet Club, Philip Street, Ashburton
Club House: Clubhouse fee $5.00 per day.
Entries: Allocation Date: Thursday 23rd February 2023
Entries close Thursday 16th March 2023
Entries may be limited due to the number of lawns available. When this occurs, entries received prior to the allocation date will be accepted with priority being given to the highest ranked players registered. Entries will be accepted in order of receipt between allocation date and entries closing for any available places.
Entry fees: Singles: $30
Doubles: each player $15
Events:
1. Open Singles: Open to all CNZ-affiliated players aged under 21 as at
Friday 1st July 2022.
2021–22 Winner – Josh Winter
1a. Plate: Open to all players who do not qualify for the knockout.
2021–22 Winner – Callum McKinnon
2. Open Doubles: Open to all CNZ-affiliated players aged under 21 as at
Friday 1st July 2022. The trophy presented by Dr Annie Henry will be awarded.
2021–2022 Winner – Josh Winter and James Duggan
Conditions:
1. The method of play will be determined once entries have been received based on a full tournament' play for all participants. There will be block play with the top qualifiers progressing to a Knockout.
2. Nominal hoop dimensions will be set to the widest axis of any ball to be used on the lawn plus 1/32nd of an inch with an upwards tolerance of zero and a downward tolerance of 1/64th of an inch.
3. Quadway hoops will be used