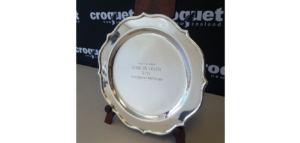 The CNZ Second 10 GC Invitation
Competing for the Duncan Dixon Trophy
Held by Croquet Nelson
Friday 18st to Sunday 20th November 2022 at 8:30am
Manager: Annie Henry
Ph: 022 39 79 303 Email: annienz2017@outlook.com
Referee: Manly Bowater
Ph: (03) 548 7971 Email: manlyandsuebo@gmail.com
Headquarters: Nelson Hinemoa Croquet Club
Club House: Any club house fee, up to $5 per day, will be charged to all competing players only for the days present.
Expressions of Interest:
Expressions of Interest to be selected close on Thursday 6th October 2022.
Announcement: The players selected will be announced on Thursday 13th October 2022.
Winner will hold the Duncan Dixon Trophy presented by Duncan Dixon, for one year.
2021–2022 Winner – Vanessa Hanna
Conditions:
1. Selection by invitation of 10 players.
2. The method of play will be best-of-three matches, Single round robin
3. A badge will be presented to a first-time winner and badges to first-time competitors in any CNZ Invitation.
4. Nominal hoop dimensions will be set to the widest axis of any ball to be used on the lawn plus 1/32nd of an inch with an upwards tolerance of zero and a downward tolerance of 1/64th of an inch.
5. Games may be double banked.
6. Quadway hoops will be used.
7. Players will be automatically promoted to the Top 10 GC Invitation, if needed.