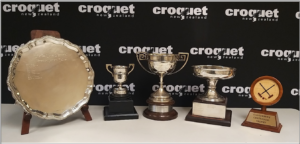 CNZ New Zealand Open Championship
Held by Wellington Croquet Association
From Saturday 18th to Saturday 25th Feb 2023 at 8:30am
Tier 1 Event
Manager: Tom Berryman
Ph: 022 469 0309 Email: tom.berryman@xtra.co.nz
Assistant Manager: TBA
Referee: Graeme Roberts
Headquarters: Paraparaumu, Mazengarb Reserve, Scaife Drive Paraparaumu. (4 courts)
Other Venues: Waikanae 5 courts and Plimmerton (Doubles venue, 5 courts, 3 at 95%)
Entries: Allocation Date: Tuesday 20th December 2022
Entries close: Thursday 26th January 2023
Entries may be limited due to the number of lawns available. When this occurs, entries received prior to the allocation date will be accepted with priority being given to the highest ranked players registered. Entries will be accepted in order of receipt between allocation date and entries closing for any available places.
Entry Fees: Event 1: $90 includes entry to event 1(a), Event 2: $40
Draw: Tournament Manager.
Club House: Any club house fee, up to $5 per day, will be charged to all competing players only for the days present.
Events
1. New Zealand Open Championship: Open to all. Play will commence with seeded Block play. Depending on entries, the intention is to have 32 players qualify for the Open Singles Knockout. Each match will be played as best-of-three games, except that the manager may choose to play best-of-five matches from the quarter finals onwards. Challenge Cup presented by J.W. Lill and the Rene Watkins Gold Medal to be held for one year. 2021–2022 Winner – Paddy Chapman
Runner-up will receive the John Prince Trophy presented by A.D.J. Heenan, OBE. 2021–2022 – Felix Webby
1(a) Bronze Medal: For players eliminated from the knockout before the Quarter finals. 2021–2022 Winner – John Christie
1(b) Heenan Plate: All players entered in event 1 who do not qualify for the Open Singles Knockout are eligible to enter the Heenan Plate. Trophy presented by A.D.J. Heenan, OBE. 2021–2022 Winner – Steve Clarke
2. New Zealand Championship Doubles: Open to all. Play will commence with seeded blocks. Those qualifying from the blocks will proceed into post-section play. Shields presented by Messrs E.G. Rawnsley and N.H. MacFarlane. 2021–2022 Winners – Paddy Chapman & Greg Bryant
2(a) Doubles Plate: Open to pairs in event 2 that have not qualified for the main doubles knockout. Single-game knockout format. Entry is optional. 2021–2022 Winners – Not held
3. All players with a New Zealand handicap of 0 or higher will be automatically considered for the Charles Jones Memorial Encouragement Salver. The Salver will be awarded to the player with the best record in the handicap range as determined by the Tournament Management Committee. Trophy presented by Alison McMillan. 2021–2022 Winner – Bonnie Johnstone
Conditions
1. Advanced Play.
2. Hoops will be set to the widest axis of any ball to be used on the lawn plus 1/32" with an upwards tolerance of zero and a downward tolerance of 1/64th of an inch
3. As many entries will be accepted as possible with entries limited only if the number of players per available lawn is exceeded.
4. The Doubles will be played on Saturday, Sunday and Monday. The Singles will commence on Tuesday.
5. Information on the playing schedule and other issues will be posted on Croquet Scores after entries have closed. The Manager will provide players with an outline of the method after entries close.
6. Players Choice method of seeding will be used to seed the singles knockout so long as there are at least 16 players in the knockout.
7. Quadway hoops will be used