This year's South Island Champs were held in Canterbury at United and Holmes Park. The first two days were for Open Doubles, played as a six round swiss with nine pairs. The winners were Josh Freeth and Felix Webby who were unbeaten. They beat runners-up Edmund Fordyce and Chris Clarke 26-20 after Felix hit a 26 yard "last shot" and then later a 35 yard "last shot".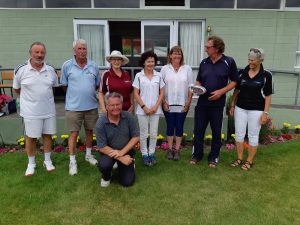 Photo: Competitors from the 4+ event with the tournament manager, Chris Clarke
The 4+ Singles was hosted by Holmes Park who provided excellent playing conditions. After the block play, Leo van Oosten and Kevin McGlinchy played a final for the Championship. Leo had won 6/7 in the block and Kevin 5/7 including beating Leo. Kevin took an early 10-3 lead which he held until Leo finished a 6 hoop break to make it 21-18 four minutes before the 210 minute time limit expired. Leo held onto this lead to win the event. Leo also qualified for his Silver Award earlier in the event when he completed a 12 hoop break against Baubre Murray.
Nine players competed in a block for the 0-3.5 Championship. After day 1, John Hearnshaw was the only unbeaten player, but as the next two days unfolded, favourite Ian Campbell started to get back on top, finishing with 7/8. Kathie Grant pulled off a wonderful turn after time against John Yarrall in the final round to also reach 7/8, but Ian had scored a whopping 54 more net hoops, so took the title.
Twelve players competed in two blocks for the Open. The use of blocks has been requested by the majority of players in recent surveys, but this led to Felix Webby being eliminated from Block A with only one loss since both Greg Bryant and Josh Freeth had better net points. In Block B, Jenny Clarke was unbeaten and Chris Shilling was runner-up. Greg beat Chris 2-1 in their semi-final and Jenny remained unbeaten with a 2-0 win against Josh. The final was won in straight games 26-1, 26-13 by Greg Bryant who won the event for the fifth year in a row.
It was great to have 29 players at an AC event – with handicaps ranging from minus 3 to 10, so why not add it to your events for next season?
For full results, please see croquetscores.
Chris Clarke
Manager