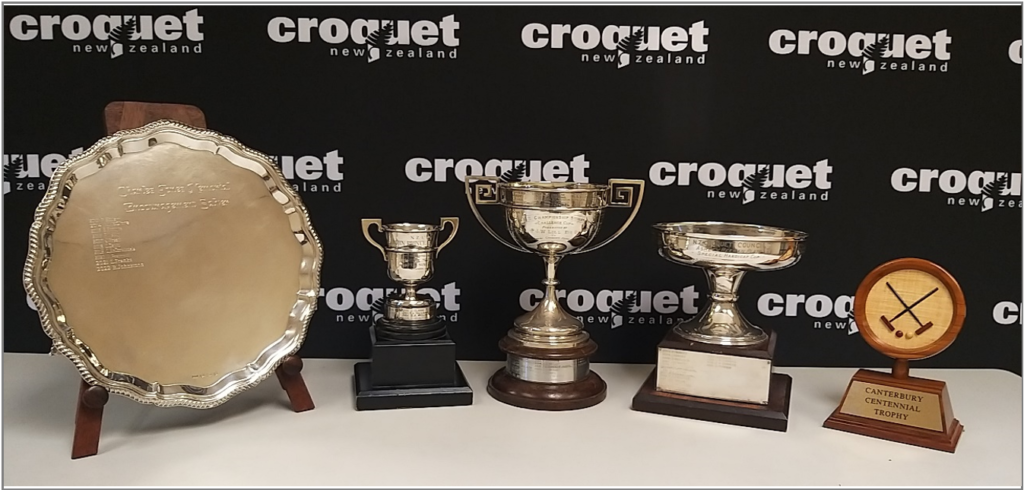 The New Zealand Open is Croquet New Zealand's Association Croquet National Tournament featuring both Singles and Doubles championship events.
First contested in 1913, some of the top players in New Zealand's history have competed and won this event as well as attracting some of the top players from around the world. Although the New Zealand Championship today has two events (open singles and open doubles) played over 1 week, it used to consist of 5 events (open singles, men's singles, women's singles, open doubles and handicap singles) played over 2 weeks. In the history of this tournament, three players were successful in winning all four titles they were eligible for in the same season. They are, Clem Watkins (1954), Ashley Heenan (1959) and Tony Stephens (1960).
The Open Singles event has been held 103 times since 1913 over a 109 year period (including 6 years where it was not held due to the World Wars) up to and including the 2022 NZ Open. During this span, there have been 45 different winners. Bob Jackson currently holds the record for the most successful player in the history of the NZ Open Singles event having won 14 titles as well as being the runner-up on 10 other occasions. Jackson's incredible record in making the final spans over four decades. After winning his first final in 1975 (the first time he reached the final), Jackson completed two separate 3-peats. The first from 1982 to 1984 and the second from 1997 to 1999. Jackson's last final's appearance came in 2001 when he lost to Toby Garrison. Four other players have won this event 5 times or more; Arthur Ross (11), John Prince (8), Ashley Heenan (5) and Greg Bryant (5). Rene Watkins is the most successful women's player in the history of the NZ Open Singles with 4 titles.
The Open Singles title has regularly attracted some of the best players in the world and has been won by a non-New Zealander 13 times.
The Open Doubles has always been played in conjunction with the Open Singles. As at 2021, it had been contested 103 times over a 109 year period. The Open Doubles has seen plenty of different doubles pairings with 91 individuals having won the NZ Open Doubles Title. This includes several players that have won a number of NZ Open Doubles titles and one dominant pairing.
Over the 109 year history of the Doubles, 4 players have won the event 10 times; Mrs Rene Watkins, John Prince, Joe Hogan and Bob Jackson. The latter two combining on 9 occasions to win the event including winning 4 in a row from 1979 to 1982 and again in 1985 to 1988.
Watkins' titles even include winning three in a row with her husband, Clem Watkins, from 1953 to 1955.
In addition to the four players listed above, another 3 players have won the event 7 times; Chris Clarke, Mrs B.A. Jarden and Arthur Ross.
The winner receives the cup presented by J.W. Lill, and the New Zealand Gold Medal presented by A.G.F. Ross for competition during the 1930 New Zealand Test Selection and won outright by Mrs C. Watkins. The runner-up to receive the John Prince Trophy presented in 1987 by A.D.J. Heenan, OBE. Also included is the Heenan Plate for the winner of the Plate section and the Charles Jones Memorial Salver for the best performing individual in a specific handicap range as outlined by the manager.

Below is a history of all of the Open Singles and Open Doubles winners (number of titles in brackets):
Open Singles Winners:

| Year | Winner | Runner-up | Doubles Winners | | Heenan Plate |
| --- | --- | --- | --- | --- | --- |
| 2023 | L. McCorkindale | P. Chapman | G. Bryant (6) | P. Chapman (2) | J. Christie (3) |
| 2022 | P. Chapman (2) | F. Webby | G. Bryant (5) | P. Chapman | S. Clarke |
| 2021 | F. Webby | L. McCorkindale | A. Westerby (3) | L. McCorkindale | L. Franks |
| 2020 | A. Hakes (2) | E. Fordyce | G. Bryant (4) | E. Fordyce (2) | A. Posimani |
| 2019 | G. Bryant (5) | J. Freeth | C. Clarke (7) | J. Clarke (4) | J. Christie (2) |
| 2018 | E. Wilson – AUS | S. Mulliner – ENG | C. Shilling | S. Murray – SCO | J. Christie |
| 2017 | A. Hakes | G. Bryant | A. Hakes | E. Fordyce | G. Fisher |
| 2016 | G. Bryant (4) | P. Skinley | G. Bryant (3) | F. Webby | H. Tahurangi (3) |
| 2015 | I. Dumergue – AUS | G. Bryant | C. Clarke (6) | J. Clarke (3) | H. Tahurangi (2) |
| 2014 | G. Bryant (3) | Mrs J. Clarke | C. Clarke (5) | J. Clarke (2) nee Williams | C. Shilling (3) |
| 2013 | T. Garrison (2) | A. Westerby | M. Avery | M. Wright (2) | J. Hogan |
| 2012 | G. Bryant (2) | T. Garrison | C. Clarke (4) | H. McIntosh (2) | D. Bulloch (6) |
| 2011 | G. Bryant | R. Fletcher – AUS | C. Clarke (3) | H. McIntosh | K. Beard – AUS |
| 2010 | P. Chapman | S. Mulliner – GB | A. Westerby (2) | T. Garrison (3) | R. Jackson |
| 2009 | S. Mulliner – GB | K. Aiton – GB | I. Lines – GB | M. Wright | M. Fletcher – AUS |
| 2008 | R. Beijderwellen – NED | R. Fulford – GB | R. Beijderwellen – NED | R. Fulford – GB (2) | G. Roberts (3) |
| 2007 | C. Clarke – GB | A. Hakes | C. Clarke – GB (2) | J. Williams | G. Smith |
| 2006 | R. Fulford – GB (4) | P. Skinley | C. Clarke – GB | R. Fulford – GB | D. Bulloch (5) |
| 2005 | R. Fulford – GB (3) | R. McInerney – IRE | B. Fleming – AUS | Mrs L. Fleming – AUS | J. Versey (2) |
| 2004 | D. Bulloch | A. Stephens | P. Batchelor | R. Lowe | P. Skinley (3) |
| 2003 | R. Jackson (14) | D. Goacher – GB | G. Beale (4) | D. Wickham | J. Versey |
| 2002 | J. Prince (8) | B. Wislang | J. Prince (11) | T. Walker | H. Tahurangi |
| 2001 | T. Garrison | R. Jackson | T. Garrison (2) | D. Bulloch (2) | B. Baker |
| 2000 | R. Fulford – GB (2) | C. Clarke – GB | S. Mulliner – GB | D. Openshaw – GB | J. Riches – AUS |
| 1999 | R. Jackson (13) | S. Davis | G. Beale (3) | J. Prince (10) | P. Landrebe |
| 1998 | R. Jackson (12) | A. Westerby | S. Jones (4) | T. Garrison | R. Lowe |
| 1997 | R. Jackson (11) | P. Skinley | P. Skinley (2) | S. Jones (3) | J. Guest – GB |
| 1996 | S. Jones | B. Wislang | R. Baker (2) | G. Beale (2) | D. Bulloch (4) |
| 1995 | R. Jackson (10) | R. Fulford – GB | P. Skinley | S. Jones (2) | J. Prince (2) |
| 1994 | A. Westerby | R. Jackson | R. Baker | G. Beale | A. Stephens |
| 1993 | R. Fulford – GB | R. Jackson | G. Bryant (2) | J. Prince (9) | G. Roberts (2) |
| 1992 | R. Jackson (9) | S. Jones | G. Bryant | J. Prince (8) | D. Bulloch (3) |
| 1991 | R. Jackson (8) | J. Hogan | J. Hogan (10) | A. Westerby | C. Shilling (2) |
| 1990 | J. Hogan (3) | R. Fulford | R. Jackson (10) | J. Hogan (9) | P. Skinley (2) |
| 1989 | R. Jackson (7) | J. Prince | S. Jones | A. Stephens (3) | S. Fellows |
| 1988 | J. Hogan (2) | R. Jackson | R. Jackson (9) | J. Hogan (8) | C. Shilling |
| 1987 | J. Prince (7) | R. Jackson | R. Jackson (8) | J. Hogan (7) | G. Roberts |
| 1986 | J. Hogan | R. Jackson | R. Jackson (7) | J. Hogan (6) | R. Murfitt (2) |
| 1985 | P. Skinley (3) | J. Hogan | R. Jackson (6) | J. Hogan (5) | B. Wardle |
| 1984 | R. Jackson (6) | G. Beale | R. Clarke (4) | G. Roberts | Mrs M. Hadwin |
| 1983 | R. Jackson (5) | Mrs W. Wiggins | R. Murfitt (2) | B. Wislang | C. Johnston |
| 1982 | R. Jackson (4) | J. Prince | R. Jackson (5) | J. Hogan (4) | D. Curtis |
| 1981 | P. Skinley (2) | R. Jackson | R. Jackson (4) | J. Hogan (3) | D. Bulloch (2) |
| 1980 | P. Skinley | R. Jackson | R. Jackson (3) | J. Hogan (2) | K. Woolett |
| 1979 | R. Jackson (3) | J. Hogan | R. Jackson (2) | J. Hogan | D. Bulloch |
| 1978 | R. Jackson (2) | J. Hogan | J. Prince (7) | A. Anderson (3) | Miss S. Grigg |
| 1977 | J. Prince (6) | R. Jackson | J. Prince (6) | A. Anderson (2) | Miss J. Clarke |
| 1976 | J. Prince (5) | R. Jackson | R. Murfitt | D. Bulloch | R. Clarke |
| 1975 | R. Jackson | J. Hogan | J. Prince (5) | R. Clarke (3) | R. Murfitt |
| 1974 | R. Murfitt | G. Rowling | C. Anderson | A. Anderson | P. Skinley |
| 1973 | C. Anderson | G. Rowling | R. Clarke (2) | R. Jackson | Mrs J. Jarden (3) |
| 1972 | R. Clarke | G. Rowling | A. Stephens (2) | R. Clarke | J. Prince |
| 1971 | J. Prince (4) | A. Stephens | Mrs J. Jarden (7) | G. Rowling (4) | Mrs C. Middlemiss |
| 1970 | K. Woollett | C. Wadsworth | J. Prince (4) | K. Woollett | Mrs J. Jarden (2) |
| 1969 | J. Prince (3) | C. Wadsworth | Mrs J. Jarden (6) | G. Rowling (3) | Mrs J. Jarden |
| 1968 | J. Prince (2) | D. Curtis | Mrs J. Jarden (5) | G. Rowling (2) | J. McNab |
| 1967 | J. Prince | Mrs J. Jarden | Mrs J. Jarden (4) | G. Rowling | G. Rowling |
| 1966 | Mrs J. Jarden | G. Rowling | Mrs J. Jarden (3) | J. Prince (3) | Mrs E. Hight |
| 1965 | G. Rowling (2) | Mrs J. Jarden | Mrs J. Jarden (2) | J. Prince (2) | Mrs E. Todd |
| 1964 | A. Heenan (5) | Mrs C. Wadsworth | A. Heenan (3) | J. Prince | Mrs R. Budgen |
| 1963 | J. Solomon – GB (2) | W. Ormerod – GB | E. Cotter | J. Solomon – GB (2) | Mrs A. Griffith |
| 1962 | H. Ford | Mrs J. Jarden | Mrs W. Martin (2) | T. Regan | E. Trainor |
| 1961 | Mrs H. Purdy | Mrs J. Jarden | Mrs R. Watkins (10) | J. Tucker | Mrs A. Stephens |
| 1960 | A. Stephens | J. Tucker | A. Heenan (2) | A. Stephens | Mrs J. Nicholl |
| 1959 | A. Heenan (4) | C. Wadsworth | F. Gurnsey | Mrs W. Martin | L. Mitchell |
| 1958 | A. Heenan (3) | A. Ross | M. Reckett – GB | A. Heenan | C. Wadsworth (2) |
| 1957 | C. Bryan | W. Paynter | Mrs N. Mitchell | Miss I. Wainwright | Mrs A. Kirk (2) |
| 1956 | G. Rowling | Mrs C. Wadsworth | Mrs J. Jarden | Miss M. Claughton (3) | Mrs A Kirk |
| 1955 | Mrs H. O'Connell | Mrs H. Fenwick | C. Watkins (3) | Mrs R. Watkins (9) | Mrs G. Metcalfe |
| 1954 | C. Watkins | Mrs. R. Watkins | C. Watkins (2) | Mrs R. Watkins (8) | C. Wadsworth |
| 1953 | A. Ross (11) | C. Watkins | C. Watkins | Mrs R. Watkins (7) | Mrs R. Hogan |
| 1952 | Mrs R. Watkins (4) | Miss I. Wainwright | A. Ross (7) | Mrs L. Boyes | Mrs G. McLeod |
| 1951 | J. Solomon – GB | A. Ross | H. Hicks | J. Solomon – GB | W. Kirk |
| 1950 | A. Ross (10) | W. Kirk | C. Bryan (2) | Mrs L. Wood (3) | C. Watkins |
| 1949 | A. Ross (9) | Mrs R. Watkins | H. Ford (2) | Miss M. Claughton (2) | Mrs J. Lockett |
| 1948 | A. Heenan (2) | Miss M. Claughton | H. Ford | Miss M. Claughton | |
| 1947 | C. La Roche (2) | Miss M. Claughton | C. La Roche (3) | Mrs L. Wood (2) | |
| 1946 | A. Heenan | Lt-Col W. Beamish | C. Bryan | Mrs R. Watkins (6) | |
| 1945 | C. La Roche | Mrs R. Watkins | C. La Roche (2) | Mrs L. Wood | |
| 1944 | Lt-Col W. Beamish | C. La Roche | C. La Roche | Mrs J. Brass | |
| 1943 | Not Held | | | | |
| 1942 | Not Held | | | | |
| 1941 | Mrs R. Watkins (3) | Mrs G. McLeod | A. Gibbs (2) | Mrs A. Clark (3) | |
| 1940 | Mrs R. Watkins (2) | A. Ogier | J. Tannock | Mrs R. Watkins (5) | |
| 1939 | A. Ross (8) | J. Tannock | A. Gibbs | Mrs A. Clark (2) | |
| 1938 | Mrs R. Watkins | Mrs R. Gambrill | F. Hartnell (2) | Mrs A. Morgan | |
| 1937 | A. Gibbs (2) | C. Bryan | R. McCreath | Mrs W.N. Corbert | |
| 1936 | A. Gibbs | Mrs W. Thompson | A. Ross (6) | Mrs R. Watkins (4) | |
| 1935 | Col. Du Pre – GB (2) | A. Ross | Mrs A. Clark | Mrs E. Tingey | |
| 1934 | Capt. F Hartnell | A. Ross | F. Hartnell | Mrs W. Caldow | |
| 1933 | H. Stratton (2) | Mrs R. Watkins | H. Stratton (2) | Mrs F. Palmer | |
| 1932 | A. Ross (7) | Mrs F. Tiffen | A. Ross (5) | Mrs A. Hadfield | |
| 1931 | H. Williams | Sir Francis Wemyss | Mrs R. Watkins (3) | Mrs F. Tiffen | |
| 1930 | Mrs A. Jarvie | Mrs F. Tiffen | Mrs R. Gambill (2) | Mrs M. Pitcaithley (3) | |
| 1929 | A. Ross (6) | Mrs A. Jarvie | Mrs R. Gambill | Mrs M. Pitcaithley (2) | |
| 1928 | Col. Du Pre – GB | A. Ross | W. Du Pre – GB | Miss D. Steele – GB | |
| 1927 | A. Ross (5) | Rev. C Creed Meredith | A. Ross (4) | Mrs E. Johnson (2) | |
| 1926 | A. Ross (4) | Miss M. Hesketh | Mrs R. Watkins (2) | Mrs F. Pitcaithley | |
| 1925 | A. Ross (3) | Miss M. Hesketh | H. Williams | Mrs E. Johnson | |
| 1924 | A. Ross (2) | Mrs F. Tiffen | H. Stratton | Mrs R. Watkins | |
| 1923 | H. Stratton | A. Ross | J. Murray | Miss M. Hesketh | |
| 1922 | A. Ross | S. McCollough | A. Ross (3) | Mrs G. Murray Aynsley | |
| 1921 | R. Caughley | P. Laurie | R. Caughley | Mrs G. Richardson | |
| 1920 | Dr E. Whitaker | A. Ross | H. Penn (2) | A. Ross (2) | |
| 1919 | Not Held | | | | |
| 1918 | Not Held | | | | |
| 1917 | Not Held | | | | |
| 1916 | Not Held | | | | |
| 1915 | K. Izard (3) | A. Ross | H. Penn | A. Ross | |
| 1914 | K. Izard (2) | P. Laurie | K. Izard (2) | Miss L. Rutherford (2) | |
| 1913 | K. Izard | T. Chambers | K. Izard | Miss L. Rutherford | |