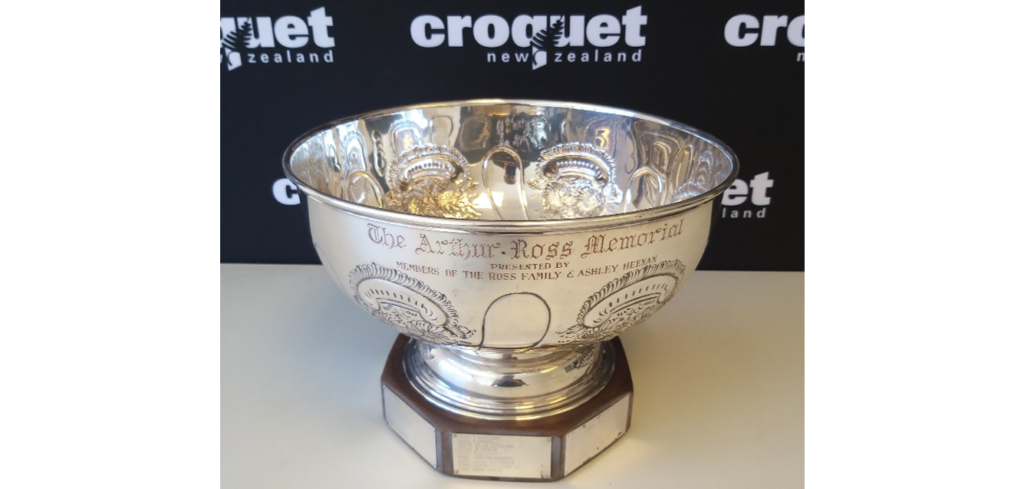 Trophy presented by A.D.J. Heenan OBE and Members of the Ross Family.
In its year of presentation of 1979, the event was played on an international basis in conjunction with the President's Invitation Event: Senior Section, and until 1982 as a Challenge Trophy between the holder and the winner. Paul Skinley won the first three editions and Madeline Hadwin won in 1982.
In 1983, 1984 and 1985 it was played as a match between winner of Women's and Men's Handicap Singles events. The winners were G. Beale in 1983, M. Keegan in 1984 and G. Smith in 1985.
In 1986, the format of the Arthur Ross Memorial Event was determined as a National Handicap Event, open to all players. Below is the list of players since then in reverse chronological order:
| Year | Winner | Runner-Up |
| --- | --- | --- |
| 2023 | L. Rive | E. Scott |
| 2022 | G. Bryant | P. Fage |
| 2021 | Not Held | |
| 2020 | M. Spooner | J. Winter |
| 2019 | R. Spooner | C. Johnstone |
| 2018 | S. Horrer (2) | V. Neall |
| 2017 | S. Horrer | I. Campbell |
| 2016 | G. Simpson | W. Gair |
| 2015 | F. Webby | P. Skinley |
| 2014 | E. Fordyce | G. Bryant |
| 2013 | K. Jackson | D. Bulloch |
| 2012 | B. Beetson | M. McClure |
| 2011 | J. Smith | S. Foster |
| 2010 | S. Gagnon | N. Ashley |
| 2009 | L. Whittaker | H. Murrelll |
| 2008 | G. Roberts | C. Curtis |
| 2007 | G. Duckett | B. Williams |
| 2006 | D. Dixon | R. Burrell |
| 2005 | S. Hurring | P. Lennie |
| 2004 | R. Burrell | M. Powell |
| 2003 | T. Garrison | R. Cawley |
| 2002 | C. Tucker | C. Lyles |
| 2001 | T. Hinde | R. Dunnett |
| 2000 | C. Lyles | G. Wicksteed |
| 1999 | M. Keegan | |
| 1998 | R. Stonely | |
| 1997 | P. Landrebe | |
| 1996 | R. Baker | |
| 1995 | J. Wall | |
| 1994 | A. van Saarloos | |
| 1993 | P. Couch | |
| 1992 | S. Davis | |
| 1991 | R. Lowe (2) | |
| 1990 | K. Haswell | |
| 1989 | A. Westerby | |
| 1988 | B. Elkis | |
| 1987 | S. Jones | |
| 1986 | R. Lowe | |