The New Zealand team of Felix Webby (C) (Taranaki), Duncan Dixon (Canterbury), Edmund Fordyce (Canterbury), Josh Freeth (Canterbury) and Team Manager, Phillip Drew (Auckland) have won the 2020 Golf Croquet World Team Championship. Successfully defending the title New Zealand won in 2016.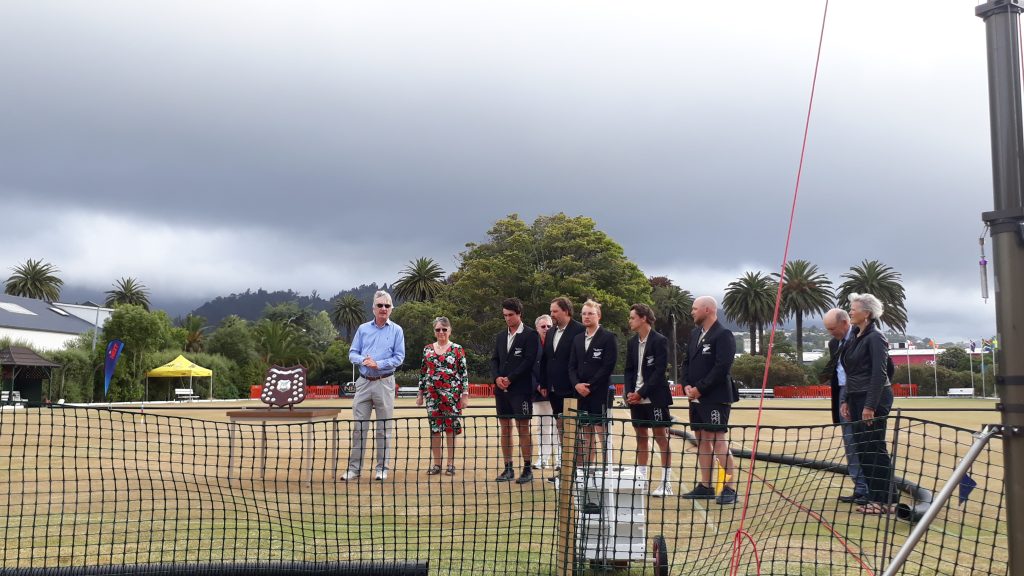 The New Zealand team started strong in block play only dropping two matches in the three test matches. After beating Australia 5-1 on the first day, they beat Ireland 6-0 on day two before sealing top qualifying spot from their block with a 5-1 win over England on day 3. The dominate performance in block play also included a 27 game winning streak.
New Zealand booked their place in the final with a hard fought 7-6 win over USA in the first semi-final. In the second semi-final, Egypt dispatched England 12-1 to set up a finals rematch from 2012 and 2016.
With each nation having won the title once before, the 2020 winners would become the first team to win the title twice.
Day one saw a very tight match. After splitting the doubles 1-1, Egypt took the lead winning two singles matches to New Zealand's one. After a long day, 12 hours, and with game three between Webby and Amr Alebiary tied at 4-4, bad light finally halted play and gave Egypt a 3-2 lead going into day 2.
The morning of day two saw a similar start to day one with the doubles match lasting over 5 hours. Egypt finally claimed that match 2-1 which re-established their lead at 4-3 after Freeth had leveled the Test for the Kiwis with a win earlier in the day. From there, it was all New Zealand with the team winning the next four matches to claim the Test match 7-4 and defend the Openshaw Shield.
Full scores can be found on Croquet Scores: https://croquetscores.com/2020/gc/world-teams-championship-4/egypt-vs-new-zealand
You can also catch all the highlights (or watch the final in full) on Sky Sport Next: https://www.youtube.com/watch?v=GObSvlQ1iqI&t=78s