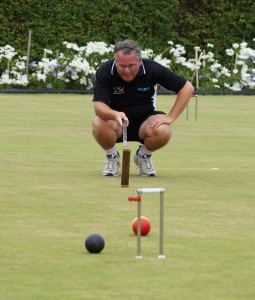 Chris, aged 43, lives in Christchurch, having emigrated from England a decade ago. Chris has won the AC worlds twice and is the only player to win the MacRobertson Shield for different countries, having won all six events he has competed in.
Chris is currently NZ's top ranked golf croquet player and has just won the NZ GC Open Doubles with Ian Burridge. Chris was the last Englishman to win a medal at the GC Worlds and now hopes to win one for NZ.
Chris has been one of the World's top players since the 1980s. During this time he has achieved many successes including 2 AC World Championships and being part of winning MacRobertson for both Great Britain and New Zealand.
Chris volunteers a huge amount of his time to croquet (looking after the United lawns, having held or currently holding a range of administration positions at United Croquet and Canterbury Croquet and as a previous youth squad coach and current AC selector for Croquet NZ)