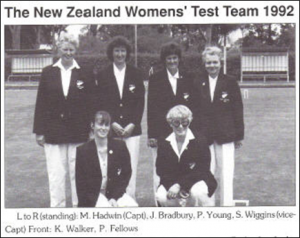 Susan was a very accompolished sportswoman before taking up croquet, excelling in equestrian events, figure skating and Golf.  She exhibited the same gritty determination as a croquet player, coached by Fred Guernsey at Fendalton Park club she adopted the same tactical approach as Fred employed which tended to be rather careful and somewhat defensive.  Susan sometimes expressed the wish to become a more adventuresome player but Fred's influence made that difficult.  However, on her day she was a formidable opponent, never giving an inch and remaining determined to win to the very end.
Susan was a member of the New Zealand Team in the Trans Tasman Test series in 1988, 1990 and 1992 (vice Captain), during the 1979 MacRobertson series she played for a N.Z. Representative side against Great Britain and during the 1990 series was Captain of the Rep side against Australia.  In the N.Z. Championships she was runner up in the Open in 1983, won the Women's in 1975,79, Heenan Plate 1978, Mixed Doubles (with P. Couch)  1980, Handicap Singles 1978,1983,1986 and 1989.  South Island Open Champion 1982. She has an outstanding record in the S.I. Women's Championship, winning the title a record 15 times, namely 1973, 1975 through to 1985 (10 consecutive wins), 1987, 1989 and 1991. The Doubles (with Mrs. F. Fraser) 1979,1981, (with husband Robert Wiggins) in 1982.  Handicap Singles 1972, 1984, Silver Medal 1982, Bronze Medal 1972, Gold Mallet 1983, Silver Mallet 1978.
In addition to her New Zealand titles Susan won the C.A. (England) Women's Championship 1982, 1983, 1986.  C.A. Ladies field Cup Invitation winner 1982, 1984 and 1985. Silver Medal (England) 1983.