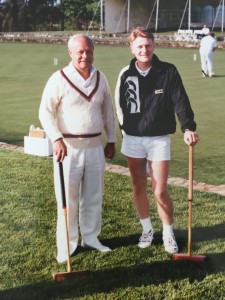 Currently living and working in Dubai, Graham originally hails from Christchurch where he learned his croquet at the Cashmere Croquet Club.
Graham comes from a croquet-playing family and began taking croquet seriously when only 14 years old, spending all his summer holidays either playing croquet or scouring the local library for publications on the sport.
He was runner-up to Bob Jackson in the final of the New Zealand Open Championship in 1984 (the first time he had entered this event) and gained his first representative honour when selected as a member of the successful New Zealand MacRobertson team in 1986 which travelled to Britain and retuned howe with the shield. This was followed by successes a year later in winning the President¹s Invitation event, as well as producing the first sextuple to be completed in North America – playing in the World Championship at Sonoma.
Graham was selected for the 1990 MacRobertson series and again in 1993, this time as captain. During the early 2000's has tended to become known as a doubles "specialist" in tournament play, winning three New Zealand doubles titles partnering Richard Baker (twice) and John Prince.
After a 13 year hiatus from the sport, Graham recently made a 'come-back' appearance at the New Zealand Men's Championship which he claims has whet his appetite to take up the sport once again.