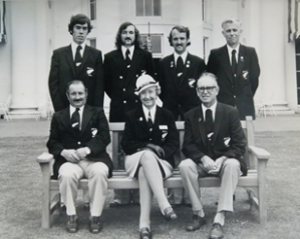 Started playing croquet at Barry Memorial Croquet Club  in 1966 whilst at High School in Gisborne.
Attended first croquet tournament in Wellington in 1967 at the age of 17, winning six events.
Shortly after I introduced my father Cliff to croquet.  He subsequently became captain of the 1974 McRoberson Shield team and a winner of both the NZ Open Singles and Doubles titles.
Moved to University in Palmerston North became President of the Takaro Club and re-established it from a membership of 5 to over 60 in addition to developing two of the finest croquet lawns in NZ.  One of proudest moments was hosting one of the McRobertson Shield test match at Takaro early in 1980.
Selected as a member of the McRobertson Shield team to tour the UK in 1974.
Runner-up to Nigel Aspinal in the open Championship held at Hurlingham at the end of the 1974 tour.
Selected as a member of the McRobertson Shield winning team 1979 in New Zealand
Undefeated doubles combination with John Prince during the series
Winner NZ Doubles
1974               With Cliff  Anderson
1977-78         With John Prince
Winner NZ Mens
1975
Member of NZ Croquet Council
1975-78
Editor NZ Croquet Gazette
1975-78