The New Zealand team of Chris Clarke (capt), Jenny Clarke, Duncan Dixon and Phillip Drew have been drawn in block B for the Golf Croquet World Teams Championship which starts in London (Surbiton Croquet Club) on Sunday 15th May, and runs through until the 21st May.  Other teams in our Block are England, South Africa and Wales.
The other Block consists of Egypt, USA, Ireland and Sweden
Update 17 May
NZ through to Semis after beating Wales 6-0, play England in last pool game tomorrow to determine who will be 1st and 2nd in pool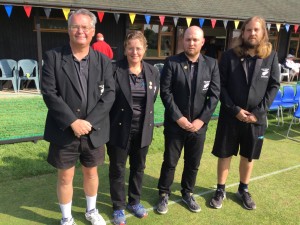 Update 20 May
NZ beat Ireland in the Semifinals.  We now face Egypt in the final (a 2-day match, best of 13) which is a replay of the final from four years ago in Johannesburg
Update 21 May
NZ finish the first day of the final leading Egypt 4-2.
3 wins required from the 7 matches to be played on day two (overnight Saturday NZ time).
Go Kiwis!!!!!
Results will be posted on Croquet Scores:
https://croquetscores.com/2016/gc/golf-croquet-world-team-tier-1-at-surbiton
Other websites with info
http://www.worldcroquet.org.uk/index.php/world-championships/2016-gc-world-team-championship
http://www.gcwtc2016.org.uk/
http://www.gcwtc2016.org.uk/format