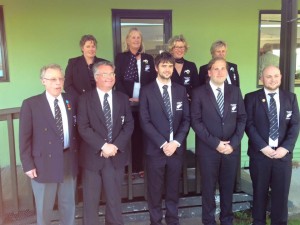 Our New Zealand team
Back: Jenny Clarke, Dallas Cooke, Erica Stephens, Phyllis Young
Front: John Christie (Mgr), Chris Clarke, Jared Keeman, Duncan Dixon, Phillip Drew (captain)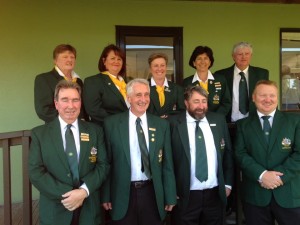 The Australian team
Back: Anne Quinn, Wendy Dickson, Rosemary Landrebe, Alison Sharpe, John Compton (Mgr)
Front: Kevin Beard, John van der Touw, Peter Landrebe (captain), Chris McWhirter
Results after day 1
New Zealand lead 8 matches to 4
Results after day 2
New Zealand win the first test 15 matches to 9
Results after day 3 (first day 2nd test)
Australia lead 8 matches to 4
Results day 4
Australia win the second test 14 matches to 10
Results day 5
New Zealand lead 8 matches to 4 (having been up 8-1 at one stage during the day)
Results final day
What a way to finish a compelling and highly competitive series.
The scores finish 12-12 in the third test.  So New Zealand win on countback, having won more matches overall.
Australia fought hard on the last day – the doubles went to Australia 3-1 bring the scores to NZ 9 – Aust 7
The womens singles all went to Australia to get them into the lead (NZ 9 – Aust 11)
Jared Keeman (NZ) won his singles and Chris Clarke (NZ) lost his (NZ 10 – Aust 12)
Then after 7.30pm Phillip Drew beat John van der Touw leaving the remaining unfinished match between Duncan Dixon and Peter Landrebe to decide the test and the series.
Duncan (NZ) and Peter (Aust) by this stage had shared the first two games.
Peter rushed out to a 5-1 lead in the decider.  However, Duncan fought for every hoop and staged a miraculous comeback to 5-5 and then inched 6-5 ahead.  Peter scored the 12th hoop to make it 6-6 and ensure that the series would be decided by the last hoop of the last games of the last match of the series.  It couldn't be scripted to be any closer.
Duncan scored the winning hoop and the NZ team rushed on to the lawn to congratulate Duncan.
At the closing dinner (which was delayed 2 hrs due to the late and dramatic finish) Duncan was named Player of the Series, and New Zealand were presented with the GC Trans Tasman Trophy.
The Golf Croquet Trans Tasman kicks off on Monday 30th November
Links to articles:
Link to results: