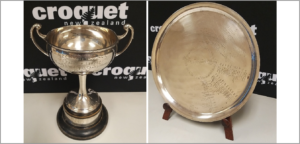 CNZ 87th South Island AC Championships
Held by Otago Croquet Association
Wednesday 25th to Sunday 29th January 2023 at 8:30am
Tier 1 Event
Manager: Nairn Smith, 65 Walton Park Ave, Fairfield, Dunedin 9018
Ph: 027 634 4688 Email nairnandkathy@xtra.co.nz
Referee: Nairn Smith
Headquarters: Forbury Park Croquet Club, Victoria Road, Dunedin. Other
venues (Leith, Punga, Tainui Clubs) may be used.
Club House: Any club house fee, up to $5 per day, will be charged to all competing players only for the days present.
Entries: Allocation Date: Wednesday 14th December 2022
Entries close Wednesday 4th January 2023
Entries may be limited due to the number of lawns available. When this occurs, entries received prior to the allocation date will be accepted with priority being given to the highest ranked players registered. Entries will be accepted in order of receipt between allocation date and entries closing for any available places.
Entry Fees: Open Singles: $50. Includes free entry for event 1(a).
Event 1(a) but not event 1: $40.
Doubles each player: $25. Events 3 and 4: $45
Late entries may be accepted on application to the manager.
Events:
1. South Island Open Championship: Open to all. Play will commence with single game block play leading to a seeded knockout draw. Challenge Trophy presented by Mr R W McCreath. 2021–2022 Winner – Not held
1(a) South Island Open Plate: Format to be decided upon providing competitors with a full playing schedule. 2021–2022 Winner – Not held
2. South Island Championship Doubles: Method of play will be determined once entries are received. Challenge Trophies – two salvers presented by Mr and Mrs W H Kirk. 2021–2022 Winners – Not held
3. South Island Singles 0–3.5: Open to players of handicap Scratch to 3.5 bisques. Players in the Open Championship will not be eligible. Method of play to be blocks followed by a knockout. 2021–2022 Winner – Not held
4. South Island Singles 4+: Open to players whose handicaps are 4 bisques and over. Players who are competitors in the Open Championship will not be eligible. Method of play to be determined once entries are received. Challenge Trophy presented by Mrs Lesley Wilson. 2021–2022 Winner – Not held
Conditions:
1. Entries may be limited to the top 32 entrants for Events 1 & 1(a) and, if necessary,
12 for Event 3 and 4. Time limits may be imposed.
2. Event 2 will be played on Wednesday 25th and Thursday 26th January 2023.
3. Events 1, 1(a), 3 and 4 will commence at 8:30am, Friday 27th January 2023.
4. Nominal hoop dimensions will be set to the widest axis of any ball to be used on the lawn plus 1/32nd of an inch with an upwards tolerance of zero and a downward tolerance of 1/64th of an inch.
5. Quadway hoops will be used